Electric kettles have become an essential Appliance In many households, Providing A quick And convenient way to boil water for tea, Coffee, O=r other hot beverages. However, over time, these handy devices can accumulate mineral deposits and stubborn stains that not only affect the taste of your drinks but also reduce the efficiency of the kettle. Fortunately, There is A simple and effective solution to restore your electric kettle's pristine state – vinegar! In this Article, We Will guide You through the step-by-step process of cleaning your electric kettle with vinegar, Ensuring that It stays in top-notch condition for years to come. So grab your vinegar bottle and let's delve into the world of eco-friendly cleaning solutions for using electric kettles!
How often should I clean my electric kettle using vinegar?
To keep your electric kettle clean And free from mineral deposits, It is recommended to clean It with vinegar about once every 1-3 months, Depending on the frequency of use. The buildup of mineral deposits can affect the taste of your beverages And even reduce the efficiency of your boiler over time.
To clean your electric kettle with vinegar, simply fill it up to half or three-quarters full with equal parts water and white vinegar. Let this mixture sit in the kettle for about an hour or two, Then bring It to A boil. Once boiled, turn off the boiler and let it cool down before emptying the solution. Rinse the boiler thoroughly with water to remove any residual vinegar smell. Following this cleaning routine regularly will help maintain the cleanliness and performance of your electric boiler for years to come.
Empty And Unplug The Kettle
It is crucial to unplug the electric boiler before you begin to ensure your safety. Electricity and water don't mix, And unplugging prevents any risk of electrocution. After unplugging, Discard any remaining water inside the boiler. You might wonder why this is necessary: residual water might already contain mineral deposits, which could reduce the efficiency of the cleaning process. Furthermore, an empty boiler will enable us to accurately measure the right quantity of water-vinegar solution required for effective cleaning.
Prepare The Vinegar Solution
With an empty and unplugged boiler, You are now set to create the vinegar solution, The magic elixir in this cleaning process. The most effective blend consists of A 1:1 ratio of white vinegar And water. Vinegar, with its natural acidic properties, is A potent descaler, capable of breaking down limescale, mineral deposits, and other build-ups that regular cleaning can miss. However, vinegar's strength can also cause damage if used undiluted; hence, water is added to create a balance that is both safe for your boiler and effective against deposits.
Submerge The Kettle In Vinegar Solution
After the vinegar solution is ready, fill your boiler until every part susceptible to mineral deposits, particularly the heating element and base, is thoroughly submerged. This comprehensive submersion is paramount to ensure all build-ups, even those hidden or stuck in crevices, are addressed. In many kettles, the maximum fill line is a good indicator of how much solution is needed. If your boiler features a viewing window, make sure the solution also covers this, as it is another common area for build-ups. In this way, every component of your boiler gets the thorough clean it deserves.
Let It Sit For A Certain Period
Once the boiler is filled with the vinegar solution, resist the temptation to immediately proceed to scrub. Let the solution sit in the boiler for at least an hour, but for severe deposits, leave it overnight. This duration is crucial to let the vinegar solution soften and break down the mineral deposits. Remember, the solution's effectiveness is directly proportional to the time it gets to interact with the limescale, so don't rush this process. After this, pour out the solution, and you will notice that most of the deposits have either dissolved or loosened.
Scrub The Interior
After the vinegar soak, it's time to physically address any stubborn deposits still clinging to the kettle's interior. To do this, You'll need A soft, Non-abrasive sponge or scrub brush. An old toothbrush can also be useful for getting into smaller nooks And crannies. Gently scrub the interior, focusing on areas where mineral deposits are visible or tend to accumulate, Like the bottom And around the heating element. It's important to note that harsh or metallic scrubbing tools should be avoided, as they can scratch and damage the kettle's interior surface. Scrubbing should be done carefully and patiently to protect your appliance while ensuring it's effectively cleaned.
Use Vinegar Solution To Wipe The Outside
While the interior of the kettle garners most of our attention, It's equally important not to neglect the exterior. The outside surface of the boiler can gather dust, fingerprints, and other forms of dirt. To clean it, make A fresh vinegar solution batch and soak a clean cloth or sponge in it. Wipe the kettle's entire exterior, ensuring you cover all areas, especially the handle and spout, which are frequently touched. For any stubborn stains or spots, let the vinegar solution sit on the surface for a few minutes before wiping. Once cleaned, rinse the exterior under warm water and dry thoroughly to avoid water spots. Not only does this step give your boiler A fresh, clean appearance, But It also promotes general hygiene And cleanliness.
Rinse With Clean Water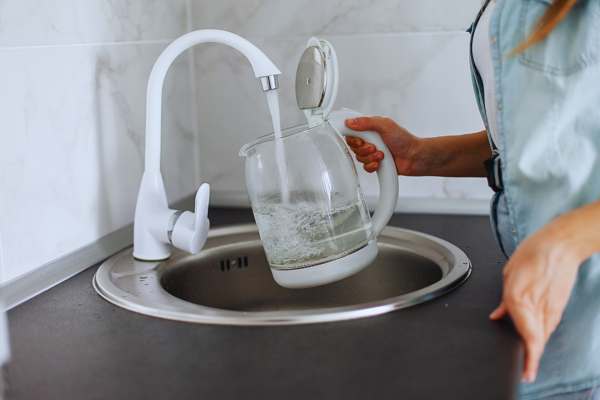 After scrubbing, It is essential to rinse the kettle thoroughly with clean water to eliminate any residual vinegar solution. The kettle's interior should be filled with fresh water, Swirled around, And then emptied. Repeat this process several times until the rinse water has no vinegar smell or taste. It's important to ensure all vinegar traces are removed, as any remaining can affect the taste of your beverages. Additionally, A proper rinse ensures your boiler is ready for immediate use without the need for further waiting or preparation. The goal here is A squeaky-clean boiler that's ready for the next cuppa.
Wipe Dry With A Soft Cloth
Once rinsed, It's important to dry the boiler properly. Leaving It wet could encourage the growth of mold or bacteria, and may lead to mineral deposits building up again. For drying, use a soft, dry cloth to wipe the kettle's interior and exterior surfaces. For hard-to-reach areas inside the boiler, you can use a dry, long-handled brush. The aim is to remove all moisture from the boiler, Leaving it dry, Clean, And ready for your next use. Proper drying also extends the kettle's lifespan by preventing rust or corrosion.
The Final Thought
Cleaning your electric kettle with vinegar is A simple, Cost-effective, And environmentally-friendly way to maintain Its functionality And longevity. Regular cleaning reduces the build-up of mineral deposits, Ensures the optimal taste of your beverages, And keeps your boiler shining like new. It's worth noting that the frequency of cleaning depends on your usage and the hardness of your water. However, A good rule of thumb is to Clean Your boiler once every couple of months. With these easy steps, you can rest assured your electric boiler will remain A reliable companion in your daily tea And coffee rituals.